Who is part of Generation Z? What do these people believe in? What do they really want?
The so-called "Gen-Z" is inclusive of those born, indicatively, between the mid-to-late 1990s of the 20th century and the early 2010s. A generation of consumers who, above all, value uniqueness, authenticity and sustainability. First and foremost, these individuals share the desire to express themselves, their personalities and inclinations. Individualistic, independent and demanding, this generation is actively contributing to shaping a new approach to consumption and purchasing and, more specifically, to retail.
Creating a world tailored to Generation Z, that will be driving the next big revolution in buying, is becoming an increasingly relevant requirement for business. Listening to its needs and moving toward realizing its intentions requires increasing attention and expertise with digital and social platforms. The generation in the spotlight, not for nothing, is also referred to as "Omnichannel". It is the first, in fact, to move in an omnichannel perspective. It is willing to move fluidly and naturally between online and offline, evaluating, on a case-by-case basis, which channel may be the most appropriate for achieving its goal.
Gen-Z between online and offline
Generation Z is composed of natively and inherently digital people, who draw purchasing inspirations from online and show a particular openness to digital word-of-mouth among opinions, reviews and recommendations. Subjected to a constant flow of information coming in from friends, family, influencers and key opinion leaders, Gen-Z has no shortage of stimulation. It develops, over time, a particular talent for filtering the quantity and quality of opinions available before making a purchase.
Companies and brands have an absolute need to adapt to new needs, meeting their passions and, above all, providing services that respond to increasingly timely and specific demands. The generation is distinguished by a marked affinity for issues such as sustainability and social causes, data privacy and transparency. These same touchpoints are what they seek in their purchases, in parallel with a strong need for timing as well.
The generation that wants everything and now
Not for nothing, we refer to the generation whose expectations are geared and shaped by services such as Amazon Prime. In essence, between the birth of a purchase desire and its fulfillment, the lead time demands to be truly lightning fast.
As digital natives, members of Gen-Z struggle with having to wait long to get what they want, especially if, in the process, there is a lack of a constant flow of communication that can keep the person updated on the progress of the purchase. Also crucial, consequently, is the perception of continuous assistance, in case the consumer is looking for more information.
Furthermore, among the requirements in the foreground is the importance of the experience understood as a moment to be actively lived in all its facets.
Thus, even the simple purchase becomes, for the most attentive brands, a possible opportunity to build consumer loyalty and offer a 100% satisfactory service and/or product, also increasing the likelihood of repurchase and loyalty.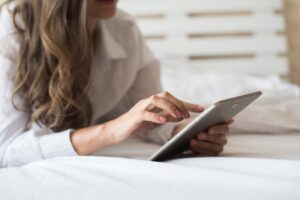 This concept of experience is closely linked to one of the most prevailing and emerging trends of recent decades: the need to access, at any time and in any place, the required service.
The boundaries between the offline and online worlds are blurring, intersecting irrevocably, and giving rise to the so-called "phygital experiences," capable of harmoniously bringing together, in a perfect union, the best of both universes.
Customization: a driver of choice for Gen-Z
For Gen-Z, every aspect of the experience must be potentially customizable. Not only, therefore, must the product be able to reflect as much as possible the person buying it, his or her preferences and personality. The customer journey itself must be tailor-made, starting with the relationship between the company/brand and the potential consumer. Suffice it to say, in fact, that 77% of Gen-Z believes it is relevant for business to provide for personalized interaction. 76%, instead, is looking for realities that can personalize digital communications addressed to them, starting with their individual preferences.
The accessibility of well-rounded customization is a key driver of choice for these consumers. They demand "tailor-made" products and services, curated and designed in every detail, so that they can reflect the person's authenticity as closely as possible. Offering this added value also enables brands to increase customer satisfaction. This enables a positive spillover in terms of increased service loyalty, repeat purchases and broad and favorable word-of-mouth, reaching new and attractive potential customers.
Similarly, for brands that already have their own e-commerce and digital presence, offering this level of personalization helps create a distinctive differentiator, setting a new method of comparison and evaluation.
In fashion, the garments a person wears become the indispensable ingredient to enable them to fully express themselves. This trend perfectly embraces an additional requirement demanded by Gen-Z: that of uniqueness, as this target is the first ambassador and supporter of self-expression.
With the ability to customize and personalize one's clothing, uniqueness becomes a much less abstract concept to achieve and pursue. The customization process itself becomes, thus, an integral part of the shopping experience, strong with an important component of intimate and personal involvement.